October 27, 1999
Hi,
Thanks for checking in on the website.
Well, I can't fool myself any longer, summer is finally over. I've been trying to stretch it out as long as I can but it really is fall now. It was a great summer though. I spent most of it at our beach house on Long Island.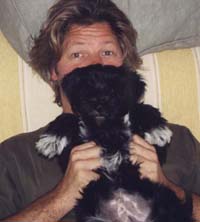 I' ve been hammocking a lot, (a sport at which I'm becoming quite good, I'm thinking of trying out for the Olympic hammocking team next year) and walking on the beach with our dogs, "Freckles", the evil beagle (he's not really evil, just grumpy sometimes) and our new Tibetan terrier puppy, "Little Charly Parker" or just"Charly" for short. He's very cute but he's having a hard time getting this concept of only going to the bathroom OUTSIDE! !!!! It's a good thing he's so cute.
Now it's back to the hustle and bustle of New York City so I guess I better be going because as you know us New Yorkers rarely have time for niceties like letter writing. I have to go sit in a traffic jam or do something else equally as important.
How long before summer starts again?
Hope to see you soon,


Back to Newsletter