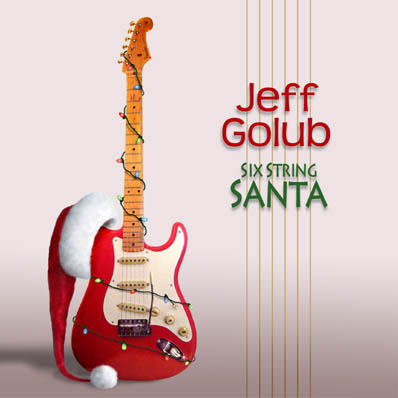 Bring home Six String Santa for the holidays!
A collection of classic Christmas songs given a funky workout by Jeff and the band.
---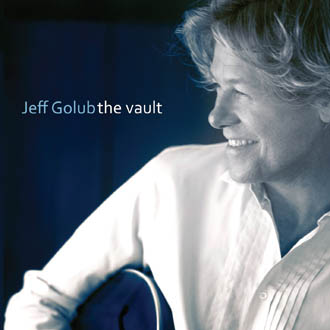 This all-star benefit album, "The Vault", features unreleased and reworked recordings by Jeff and guests. It was released posthumously in April 2015. The album features appearances by trumpeter Rick Braun, Dave Koz, Kirk Whalum, and others, with proceeds going to Golub's family.
Purchase or download from Amazon or iTunes
Reviewed by All Music
---
An account has been set up to help Jeff's family with expenses incurred due to his blindness and neurological difficulties.
If you wish to donate or learn more,
CLICK HERE

---
---
"TRAIN KEEPS A ROLLING"
| | |
| --- | --- |
| On his latest release, Jeff collaborated with keyboardist Brian Auger to create Train Keeps a Rolling, a collection of 11 original compositions and covers in the soul, jazz, blues and rock styles | |
"THE THREE KINGS"
| | |
| --- | --- |
| The Three Kings of this new collection are B.B., Albert, and Freddie: cornerstones of the modern blues revival of the 1960s, and personal touchstones for Jeff . | |
"BLUES FOR YOU"
| | |
| --- | --- |
| Blues For You is Jeff's eighth solo album. | |
"GRAND CENTRAL"
| | |
| --- | --- |
| With a spirit, energy and diversity that are uniquely New York City, Jeff will open the doors to Grand Central, his seventh solo album. | |
"TEMPTATION"
A little groovy...
a little sexy...
and a whole lot of cool!

"SOUL SESSIONS"
| | |
| --- | --- |
| Golub's blend of jazz, R&B and pop has epitomized the tougher, grittier, more earthy side of smooth jazz-in fact, his albums have as much to do with soul-jazz as they do with smooth jazz-and on Soul Sessions, he cherishes all things funky. | |
"SIX STRING SANTA"
for Christmas!
| | |
| --- | --- |
| | A collection of classic Christmas songs given a funky workout by Jeff and the band. |
---


PLEASE NOTE: Spam countermeasure
_underscores_ are purposely inserted in our e-mail addresses at this website.
Please remove them when sending e-mail.
Email: Jeff Golub Website | Copyright jeffgolub.com 2015 |