September 5, 2007
Hi,
Living in the Northeast I always have a hard time saying goodbye to summer but like it or not, here we go again.

Don't get me wrong, I love the fall colors, and even enjoy some of the winter (although ask me this in mid Feb. and I'll probably deny it). Then spring comes which I absolutely LOVE!

I may complain about the cold weather sometimes but I really do like that I live through these season changes each year. I think it helps us to "feel" the time pass as opposed to just marking off dates on a calendar ( Maybe I'm just rationalizing ). Having said this I'm sure if I wasn't already booked to play on the "Wayman Tisdale Smooth Jazz Cruise" in the Caribbean for a week in January I probably couldn't be as cavalier about it all.

Although I'll miss the beach, the farms and I guess nature in general that we have at our summer home in Bridgehampton NY., it will also be exciting to move back to the city It's been a GREAT summer but New York City, here we come!

I hope to see some of you at a nice Southern California or Florida gig over the winter months also. ( a little break now and then always helps).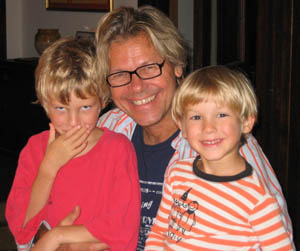 P.S.
Do the glasses make me look distinguished? I didn't think so.

ARCHIVE NEWSLETTERS
September 2007 January 2007 March 2006 December 2005 June 2005 February 2005 November 2004 September 2004 February 2004 January 2004 May 2003 July 2002 September 2001 January 2001 November 2000 February 2000 October 1999 March 1999 December 1998 March 1998 October 1997 September 1997 June 1997 March 1997 November 1996